Youth Redefine Public Spaces: Learnings From Rohtak, Haryana
by , and -
Well-designed, well-maintained and accessible public spaces, such as gardens and city squares, are critical to our well-being. There is ample research to indicate that investing in inclusive public spaces helps create livable and equitable cities. However, these spaces, which have the potential to bind communities and be the lungs of the city, are often woefully neglected in Indian Cities.
Undertaking the transformation of public spaces requires political will, administrative capacity and time. Can city planners work with architects and urban designers to reimagine unsafe, congested and underused spaces in our cities?
The Mahra Rohtak Play(ce)making competition conducted under the ongoing Safer Mobility for Youth project posed this very challenge to young professionals. The competition offered them the opportunity to redesign Rohtak's public spaces, making them safer and accessible for all, with a specific focus on youth.
This blog looks at innovative designs that will be implemented onground and have the potential to be scaled up across the city.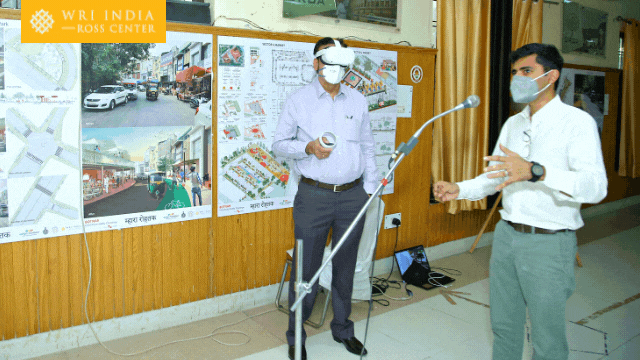 1. D Park – Bustling Marketplace
One of the busiest markets in Rohtak city, the D Park street has major eateries and shopping outlets and sees a huge influx of pedestrians throughout the day. However, lack of pedestrian infrastructure, heavy traffic, poorly allocated street space and inadequate lighting makes it unsafe for pedestrians, in particular women.
The idea: To make this space more accessible, the team focused on providing dedicated spaces for vendors and pedestrian infrastructure such as continuous footpaths, safe spaces to halt and well-marked crossings. The proposed design facilitates easier movement and a better commute experience for all user groups.
2. Tikona Park – Popular Hangout
Surrounded by educational institutions, like colleges, coaching centers, and popular eateries, all within a 300-meter walking radius, Tikona Park is frequented by youngsters. Here students are often seen reading or hanging out in between classes. However, the area has become increasingly unsafe for pedestrians owing to the lack of designated spaces for vendors and vehicular parking.
The idea: This team developed a toolkit, Raasta Rohtak, a design manual to create pedestrian-friendly streets. The toolkit looks at prioritizing pedestrians by introducing elements such as continuous walkways, facilitating universal access, increasing green cover and introducing traffic calming measures such as raised platforms to make the area safer for all.
3. Doctor Hostel – A Meeting Spot
Our research shows that close to 7,000 pedestrians use this stretch every day. This includes fellow doctors and students staying at the nearby hostels. Though there is a garden along the stretch, it is not accessible from the roadside and hence underutilized. The lack of pedestrian infrastructure also forces students to walk on the road putting them in direct conflict with traffic.
The idea: The team proposed a pedestrian network and integrated cycle track to avoid conflict between vehicular traffic and pedestrians. The team has also looked at creating a gathering space for students to assemble during festivals.
4. Sector –2 –Transforming a Market Plaza
An unused market plaza, Sector-2, is currently being used to dump garbage and park vehicles. The inadequate street lighting in the area has also made it unsafe for women, in particular.
The idea: The team proposed reclaiming the public space by pedestrianizing the plaza and restricting vehicle movement. This is done by using simple interventions such as raising the level of the plaza, installing bollards to restrict vehicle entry, and providing ample seating, continuous footpaths, safe cycling infrastructure and bright street lighting.
The city of Rohtak is home to many educational institutions, attracting students from across the country. Initiatives, like the Mahra Rohtak Play(ce)making Competition, encourage meaningful participation of youth in city-level deliberations.
It is important to bring together various stakeholders, leverage technology to make data-driven decisions, and encourage youth to become change-makers and ambassadors of safer public spaces. Sometimes, it takes an unconventional approach to arrive at an inclusive method of shaping better cities.
All photographs and visuals are by WRI India.
Views are personal.
Additional inputs from Vibhav Kharagpuria, Drishti Jain, Bhart Nagpal, Advait Jani and Nikita Gupta.