What Can Be Monitored Can Be Managed: Air Quality Monitoring in Smart Cities
by , , and -
The World Health Organization (WHO) recently revised its decade-old air quality guideline that now clearly indicates air pollution impacts human health at lower levels than previously understood. Home to 22 of the world's 30 most polluted cities, the bulk of India's population breathes air that is at least 10 times more polluted than WHO's previous PM 2.5 standards. India urgently needs strategic responses and governmental initiatives to mitigate air pollution. These strategies necessitate multi-level actions that range from defining goals and identifying obstacles to implementing measures and performing policy reviews across different administrative levels.
The Government of India established the Smart City Mission in 2015; and air quality has been recently added as an important element in calculating a Smart City's Swachh Survekshan score. The government identified 122 non-attainment cities in 2019, where air quality levels did not reach National Ambient Air Quality Standards (NAAQS) in the 2011 to 2015 period — as per the National Air Quality Monitoring Program (NAMP).
Installing Continuous Ambient Air Quality Monitoring Stations (CAAQMS) or Manual Monitoring Stations is capital intensive and is associated with significant operational and maintenance costs. As a result, several Smart Cities do not have the required number of monitoring stations as can be seen in Figure 1.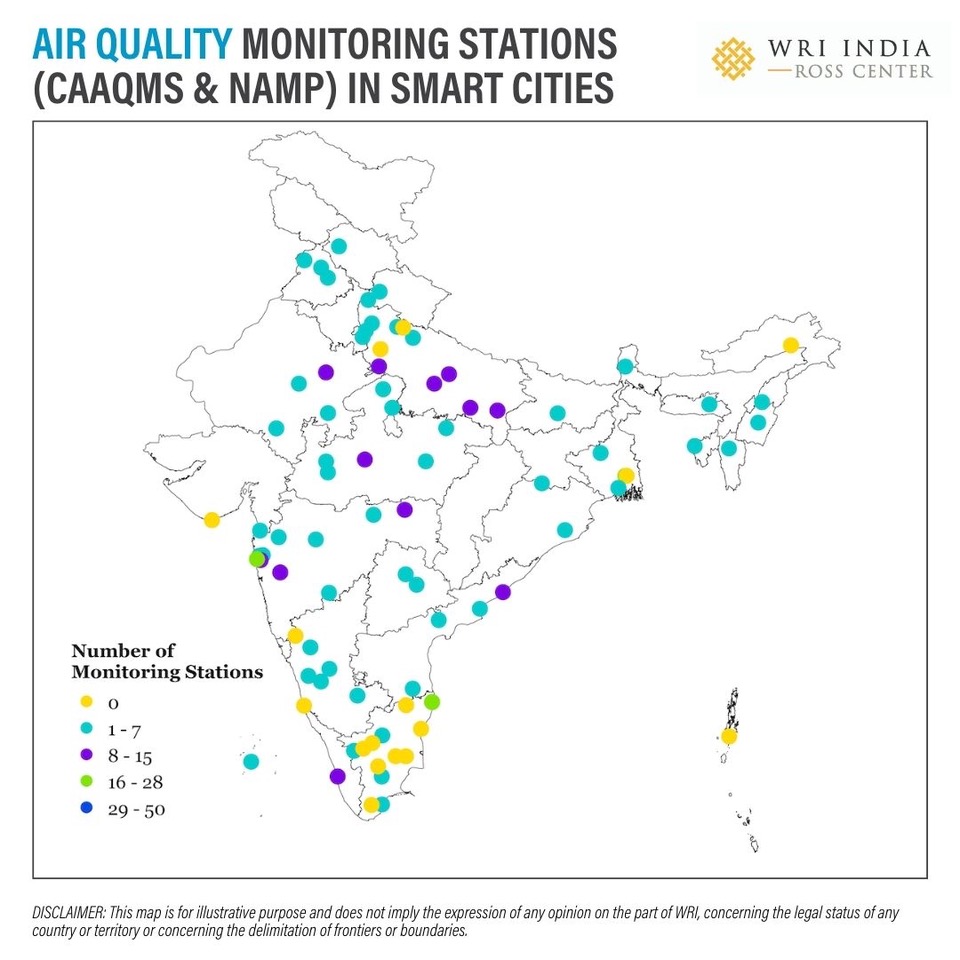 Careful monitoring of air quality gives a deeper understanding of the contributing sources of air pollution, pollution levels and the impact of policy measures. This substantial expenditure is worth the investment as it delivers reliable findings. With the introduction of new monitoring methodologies (see Figure 2), a strategic monitoring station setup that combines various air quality monitoring approaches such as regular emission inventory preparation, installation of Low Cost Sensors (LCS), and satellite-based air quality monitoring for areas that lack monitoring stations is recommended.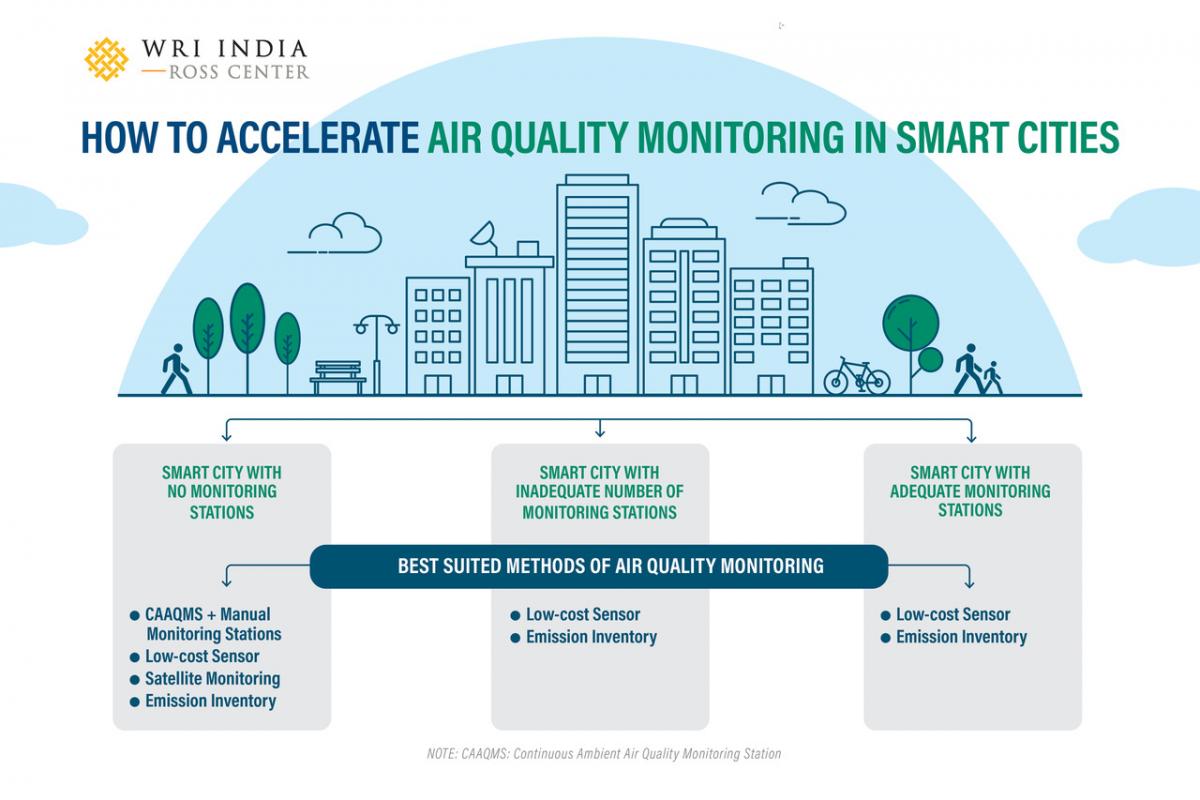 Emissions Inventory
An emissions inventory, that calculates the air pollution share of different contributing emission sources, is essential for high-resolution source attribution and micro-level air quality control planning. This combines source activity data and the emissions factor of a certain fuel/activity at a particular time period for a specific location. It is also useful in understanding source contribution and pollution levels in locations with insufficient monitoring infrastructure.
Low-Cost Sensors
Low-cost optical sensor-based technology uses light scatterings to monitor particle pollution. The sensors detect gaseous contaminants by absorbing infrared light. Although the data obtained by LCS is not as reliable as CAAQMS or Manual Monitoring Stations, it can still be placed at numerous locations to get air quality data that can better enable the assessment of air pollution levels and activity contributions.
Satellite-based Air Quality Monitoring
Satellites measure particle concentrations in the atmosphere by detecting how much light reaches the earth's surface and how much is reflected off the aerosols. This is known as aerosol optical depth or aerosol optical thickness. Satellite monitoring options can be explored in Smart Cities when monitoring stations are unavailable or where installation and management of stations is problematic.
A Smart City requires a high-resolution, neighbourhood-level air quality monitoring network that is reliable and responsive. India currently has 102 Smart Cities that are meant to act as models for the country's other rising cities and towns. A feasible decision matrix should be created in order to identify the optimal techniques for monitoring air quality.
Current challenges, capital costs, operation and maintenance expenses, reliability-accuracy, and reliance on primary and secondary variables should all be considered in the decision matrix. An effective air quality monitoring system is a critical first step toward implementation of better air quality management, that will in turn allow citizens to breath clean air as it is their right.