Unlock Bengaluru: Five Things the City Needs to Get Right
by -
Over the last decade, Bengaluru has seen tremendous growth. This unprecedented expansion has resulted in urban sprawl, with the peripheral areas of the city experiencing growth rates of over 100 percent. In turn, this has caused inefficiencies in infrastructure and service delivery, lowering people's quality of life.
WRI India, through its Sustainable Cities programme, assists urban centres like Bengaluru to make informed decisions on land-use and infrastructure that typically have 40-100 year lock-in effects. WRI India started participating in the Bengaluru dialogue in 2007, when Chief Secretary Mr. P.B. Mahishi invited WRI India's EMBARQ experts to review the Comprehensive Traffic and Transport Plan. The recommendations included scaling up bus-based mass transit, investing in walking and cycling infrastructure, and developing a parking policy that restricts the use of cars.
Since then, WRI India has continued to work closely with several government departments, academic institutions, civil society peers, and independent experts on five key initiatives: improving mass transport, encouraging transit-oriented development, promoting clean energy, engaging in local area planning, and influencing land-use policy.
1. Improving Mass Transport
Enabling 10 million trips in 10,000 buses
Today, five million citizens move around the city in 6500 buses operated by the Bangalore Metropolitan Transport Corporation (BMTC). In order to better serve the city, and meet the growing demand, BMTC should aim to serve 10 million passengers in 10,000 buses by 2020.
WRI India has been working closely with BMTC to optimise and redesign operations via the Bangalore Intra-Grid (BIG) Bus system. This effort included rationalisation of routes, renumbering, multi-modal terminal integration, fare setting and revision, re-branding, and planning for a bus rapid transit system.
2. Integrating Land-Use and Transport
Capturing land value by leveraging INR 60,000 crore investment in transit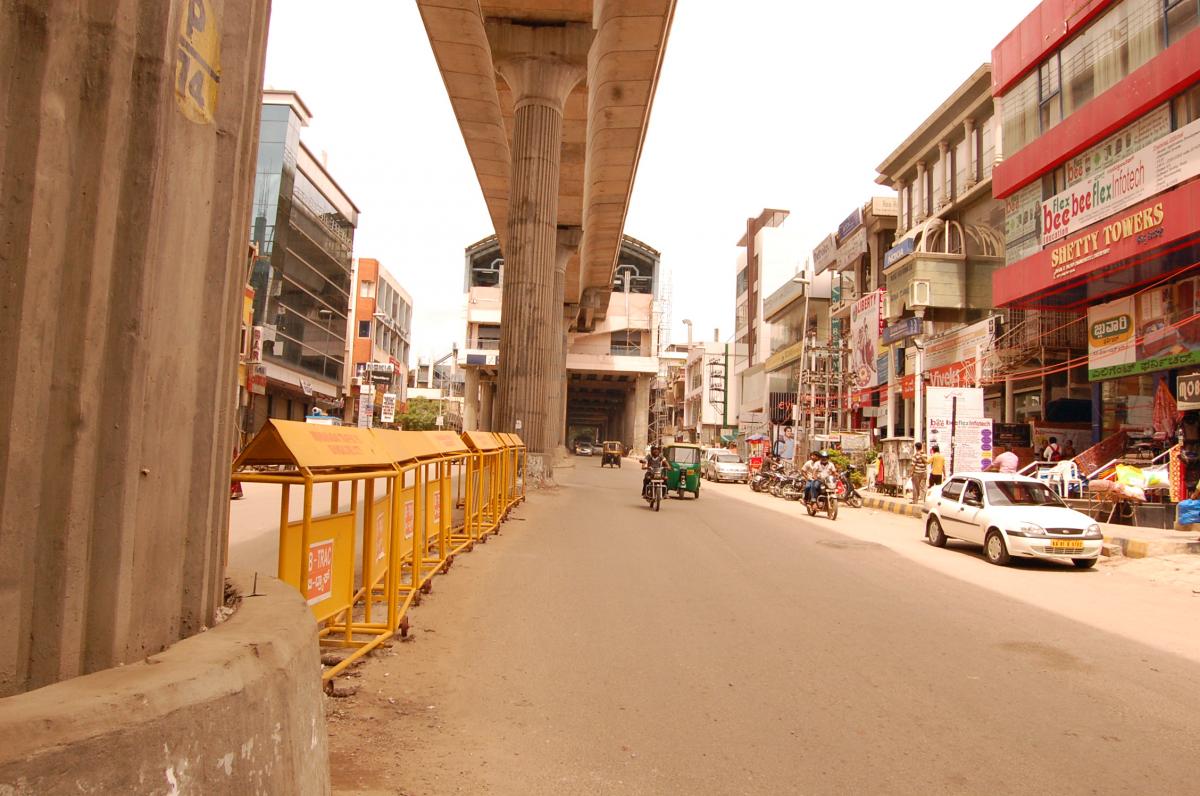 By the end of Phase II, Bengaluru will have invested over INR 40,000 crore on Namma Metro. The peripheral ring road would cost another INR 15,000 crore. In order to derive maximum value for these investments, land-use planning must be integrated with transport planning.
WRI India has been supporting the Department of Urban Land Transport (DULT) to formulate development control regulations to optimally increase densities along the metro corridors. We have also been providing technical support to the Government of Karnataka towards the adoption of alternative approaches to land-use planning so that key road projects like the peripheral ring road are advanced as area development projects.
3. Greening Energy
Stimulating the growth of clean, affordable, universal energy access
Over 30 percent of Bengaluru lacks access to affordable, reliable electricity – critical to education, health, and livelihoods. Continued issues related to power generation and distribution have meant that the city has failed to deliver a sufficient supply of clean energy to its residents. As the city works towards improving energy access, it is imperative that the social, environmental, and economic implications of these solutions are carefully weighed.
WRI India, through its Energy Governance Initiative, seeks to facilitate the collaboration of civil society, policymakers, regulators, and other electricity sector actors towards promoting transparent, inclusive, and accountable decision-making in the sector. Alongside, the Charge initiative aims to promote the adoption of renewable energy and increase energy access.
4. Engaging Communities
Using a participative approach to local area planning
Every neighbourhood in Bengaluru is undergoing transformation. Several single-family plots are being redeveloped into apartment buildings. Simultaneously, large new area developments like Whitefield, and the Bengaluru International Airport Planning Authority (BIAPA) are re-shaping and re-sizing the city. In such a scenario, a generalised city masterplan does not adequately address local concerns, resulting in poor implementation.
WRI India's work at the local area level, through neighbourhood improvement projects, has enabled local communities, residents' associations, and key stakeholders to come together to play an active role in improving infrastructure in their neighbourhoods.
5. Re-thinking Approaches to Legislation and Institutions
Unprecedented urbanisation requires unprecedented planning
Bengaluru's spatial growth within the metropolitan region is 60 sq km per year. This exponential growth has resulted in several inefficiencies in service delivery and city management. Additionally, the existing regulatory plans are severely out-dated.
WRI India has been providing technical assistance to the BBMP Restructuring Committee to bring in strategic spatial planning as an effective tool to plan and manage urbanisation. Inputs being provided include the provision of necessities such as water supply, power and its impacts on public health and the environment. We are also assisting with the revision of the Karnataka Town and Country Planning Act 1961 to enable the city of Bengaluru to introduce effective planning at scales (regional, city and local area scales). The important themes of our work consist of metropolitan coordination and decentralization.
Unlock Bengaluru
As we enter a decade of our presence and commitment to the city, WRI India presents Unlock Bengaluru, a dialogue on sustainable development in the city. We will share learnings from our engagement in Bengaluru, and draw on experiences from other cities, in India and around the world. This event will serve as a platform to share ideas and feedback on addressing equity, avoiding unsustainable lock-ins, and finding solutions to initiate transformative change. By focusing on addressing issues of congestion, sprawl and inefficiency, we hope to help the city make the right decisions now, so as to move Bengaluru on to a path of improved liveability and sustainability.
For more information, follow #UnlockBLR on social media, or log on to wri-india.org.